Windshield Facts
Windshield of modern vehicles is composed of three major parts, Inner glass, laminate and the outer glass. Windshields are designed to protect the passengers from rain water, dust and debris that they may encounter while driving, it also supports the vehicle's roof. Windshields are made of tempered glass, it will break to a certain amount of force. That process will reduce the force of impact in case a passenger's head bumps to the windshield, it will prevent skull fracture and broken neck. Then the laminate keeps both glasses in place and acts as a net to keep the passenger inside the vehicle at unwanted accidents.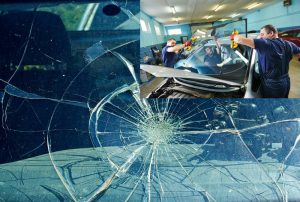 Crack Repair
Windshield cracks are sometimes inevitable, stones, pebbles and pennies are some of the objects that are causing it. If the damage is not that severe, windshield crack repairs will save your day. But if the damage is irreparable car glass replacement is advised.
A lot of DIY solutions are out in the market, but are you confident that it would really last? A cost effective way is to seek help from professionals. This will definitely save you a lot of time and money.
SAS Crack Repair Process
Our Crack repair process passed the California vehicle code requirements. The resin fills the gaps and bonds the glass components. Then the curing process tightens the bond between the components so it could sustain hot and cold temperatures. Please feel free to check out our pricing on windshield crack repair.